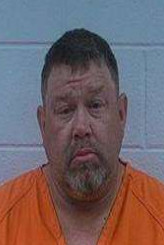 A man found sleeping in his truck in front of a home for many hours was arrested by police with needles, methamphetamine and open containers of alcohol around him, according to Rockmart Police reports.
Jay William Maxwell, 46, of 116 Euharlee Five Forks Road, Euharlee, was jailed on multiple charges after police arrived on Arbor Chase Parkway around 11 p.m. after a complaint came in that Maxwell's truck had been parked outside of a house in the neighborhood since 3 p.m. on Sunday, May 23.
A Rockmart police officer arrived and found Maxwell asleep and woke him after he found two hypodermic needles near the sleeping man, one that appeared to be loaded and ready to use.
Waking Maxwell by slapping him on the shoulder, police then asked him what he was doing there and for his identification. The officer reported that Maxwell said he was sleeping.
He acted confused while digging around the interior of the vehicle and refused to stop on command. The officer became suspicious he might be looking for a weapon knowing the situation and pulled his own firearm and pointed it at Maxwell's head until he finally obeyed commands to stop.
When asked what the needles were for, Maxwell explained that he was diabetic and took insulin, but couldn't explain immediately what type of diabetes he had that would require the medication.
Maxwell stayed put until a second officer arrived, and a search was conducted of both truck and man. Police ultimately found the needles initially spotted even after attempts to push them out of view and into the floorboard, a bag of methamphetamine on Maxwell himself, along with open containers of alcohol inside.
No insulin was discovered in the glove box.
Maxwell was charged late Sunday evening and taken to the Polk County Jail without further incident on charges of felony possession of a controlled substance and misdemeanors for possession and use of drug related objects, loitering or prowling, and an open container violation.
He remained in jail as of this posting with no bond set.