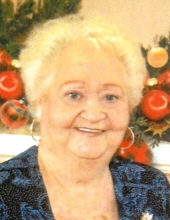 Mrs. Evelyn Cook Brewer, age 87, of Rockmart, GA passed away Monday, December 21, 2020 at her residence.

She was born in Rockmart, GA on July 10, 1933 a daughter of the late Rev. George W. Robinson and the late Pluma Jane Wheeler Robinson. Evelyn had lived all of her life in Rockmart and she was a member of the Friendly Baptist Church. She loved to crochet, sew, play cards and sing. She sang with the Polk Senior Choir, the Bellview Quartet and the Seney Quartet.

In addition to her parents she was preceded in death by her first husband, Ray Cook on October 22, 2008; by a brother, Virgil Lee Robinson and daughter in law, Rhonda Cook.

Survivors include her husband, Rev. James Brewer to whom she was married on February 14, 2010; daughter Karen Ingle and her husband Danny; son, Ricky Cook; step son, Ronnie Brewer and his wife Patricia; two brothers: Donald Robinson and his wife Brenda and Gerald Robinson; four grandchildren: Tim Ingle, Corey Ingle, Brittany Smith and her husband Corey, and Adam Cook; one step grandson, Matt Brewer; three great grandchildren: Maddie Ray Smith, Isaac Smith and Carter Lane Smith; a number of nieces and nephews also survive.


Funeral services will be held Wednesday, December 23, 2020 at 3:00 pm in the chapel of the Alvis Miller & Son Funeral Home with Rev. Randy Vines and Rev. Danny Tucker officiating. Interment will follow in the church cemetery with Rev. Corey Smith officiating.

Pallbearers will include: Tim Ingle, Corey Ingle, Matt Miller, Dennis Foor, Shane Nales, Perry Cook and Leon Cook.


The family will receive friends at the Alvis Miller & Son Funeral Home on Wednesday afternoon from 1:00 pm until the service hour.

Social distancing guidelines are to be applied and the family has requested that those visiting please wear a mask.

The Alvis Miller & Son Funeral Home & Crematory is in charge of the funeral service of Mrs. Evelyn Cook Brewer.