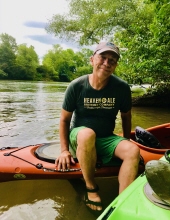 Kuni Harrison, age 69, of Rockmart, Georgia peacefully passed into the Spiritual Realm on Wednesday, March 31, 2021. Born in Tokyo, Japan on December 22, 1951 during the American Occupation, he lived the first 10 years of his life in Tokyo.
As part of a service family, he spent his early years in various places in the United States and Turkey and graduated from Choctawhatchee High School in Fort Walton Beach, Florida. The majority of his adult life was spent in the Atlanta area. His early career was as a Master Printer.
When he moved to his place in Rockmart he was already established as a wonderful Dog Boarder and Trainer, and his Happy Valley Farm became the go to place for Metro Atlanta families to board their dogs while on vacation. As friends and family have shared what they knew of Kuni, he was The Dog Whisperer, conscientiously caring for his visitor's happiness and health. He would often speak of how he felt when he first discovered his farm house. He felt so grateful to be truly loved by God and that this precious land had found him.
He was a loving father, and a tender companion to his life partner, Katherine. Together their greatest happiness was found in paddling the Rivers of Georgia, finding and playing music of all genres, creating wonderful spaces at their farm (whether a barn, a small house for contemplation, or gardens). Stitched into the fabric of his soul was the ease in which he created experiences full of love, laughter, and exploration. With the same passion for the magic of wonder and the need to connect with others, Kuni and Katherine developed "The Seed" together.
Many enlightening moments were prompted by this special concept and unveiled the importance of discovery and connectivity with loved ones. Kuni was a deeply considerate man and developed strong relationships with those around him, finding the essence in all of us. His passion for life's meaning was apparent in all he did. Food tasted better with him, conversations were more substantial when you had them with Kuni; you could tell he truly saw you.
His perfect night was cooking a masterpiece after reading a recipe book, playing games with friends and family, listening to his favorite songs, with dogs all around. This was his soundtrack. His joy and tenderness to both people and animals shall be sorely missed.
Kuni is preceded in death by his mother, Kumiko "Connie" Harrison and father, Donald Harrison. He is survived by his life partner, Katherine Remick Taheri. Kuni had two children, Anthea Hingos and James "Nathan" Harrison and his Grandchildren Victoria Harrison, Kaylee Harrison and Ashley Harrison. Katherine's children, Pehr Lund and Grandson Caleb Lund and Zachary "Zach" Lund and his wife, Laura Lund. Kuni was the oldest of five children survived by his siblings, Annette Byrom, Anthony "Tony" Harrison, David Harrison, and Caroline "Carol" Roberts.
Kuni was cremated per his wishes and a private memorial for family and friends will be held at a later date to honor his beautiful life and memorialize the immense impact he made on those he loved.
In lieu of flowers:
The family asks that you consider planting a tree in a special place for Kuni.
www.give.americanforests.org/ways-to-give/memorials-gift-trees
Or
Donate to the Atlanta Humane Society
www.atlantahumane.org
The Alvis Miller & Son Funeral Home & Crematory is serving the family of Mr Kuni Harrison.