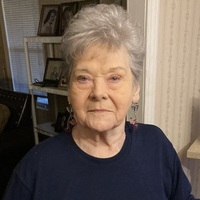 Mrs. Evelyn "Faye" Hulsey, age 81, of Cedartown, Georgia, passed away suddenly on Thursday, March 23, 2023.
Mrs. Hulsey was born on February 25, 1942, to the late Allen and Inez Gable. She was a faithful member of Friendly Baptist Church in Cedartown and a member of the WMU group. She was the best cook and was best known for her cornbread.
Preceding Faye are her parents and her husband Verdell Hulsey; son Anthony Hulsey; siblings Billy Gable, Roy Gable, Joseph (Dub) Gable, Wilbert Gable, Hazel Warren, and Hayward Gable; grandson Ricky Landrum Hulsey.
Surviving is her sons Phillip Hulsey (Karen) and Randy Hulsey; siblings Vera Price, Alvis Gable, David (Vickie) Gable; grandchildren Chris Hulsey, Ben Hulsey, Joshua Hulsey (Adelina), Brandon Hulsey, Derrick Hulsey, Sarah Grace Hulsey, Jessica Wilkerson, John Worthington Jr. (Taylor), Jennifer Crowden and Joesph Landrum (Lindsey). She is also survived by 16 great-grandchildren, and many nieces, nephews, and cousins also survive.
The family will hold a visitation Saturday, March 25, 2023, from five o'clock until eight o'clock at The Lester C. Litesey Funeral Home.
The funeral service will be held Sunday, March 26, 2023, at two o'clock at The Friendly Baptist Church, with Rev. Jeff Hulsey and Bro. Jerome Smith officiating. The interment will be at Northview cemetery following the funeral service.
The following gentlemen will serve as pallbearers: Chris Hulsey, Scott Welchel, Derrick Hulsey, Joshua Hulsey, Brandon Hulsey and John Worthington.
The Lester C. Litesey Funeral Home is honored to serve the family of Mrs. Evelyn Faye Hulsey.