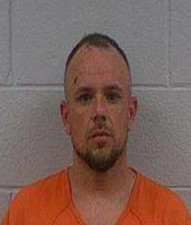 A Cedartown man was jailed and remained in custody with no bond set after police found him with methamphetamine, pills and THC oil according to a Polk County Police report.
Late on Tuesday, March 23, police took Brandon Stephen Massey, 38, of a Cedartown address (two were listed for him – one on the report and the second for the jail) was jailed on active warrants and drug charges after officers were called to Patton Street on a complaint about an unwanted guest.
Massey was found asleep in his vehicle and had to be shouted at to be woken in the passenger seat, and was not complying with officers commands to get out of the vehicle and speak with them, and at one point Massey leaned on the horn on the driver's side while leaning over.
When he failed to keep his hands where they could be seen, police took a proactive approach to the situation and struggled with him into get him out of the vehicle.

During the struggle, police thought he might have attempted to grab a weapon and ultimately had to use force to get him to the ground and under arrest.
Upon searching Massey, police found what was later field tested and found to be methamphetamine, along with three pills inside that bag and suspected THC oil where officers thought Massey had been grabbing for a weapon.
He was ultimately taken to the Polk County Jail and charged in this incident for obstruction of law enforcement officers, possession of methamphetamine, giving a false name, address, or birthdate to law enforcement officers, drugs not in original container, possession of a schedule III controlled substance and schedule IV controlled substance and possession of marijuana – purchase, possession, manufacture, distribution or sale.
Massey was also being held on probation violation charges as well from previous offenses, both felony charges. No bail had yet been set.