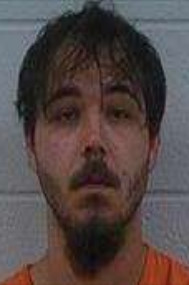 The parking lot and some of the grassy area around Victory Baptist Church was marked up by tires and a man driving in circles who was arrested on Thursday afternoon on multiple charges after police found drugs in the vehicle.
Jackson Talmadge Marchbanks, 21, of 431 Atlanta St., Cedartown, remains in jail on several felony and misdemeanor charges after he was found acting irate by police and potentially suicidal with his family around 3:35 p.m. in the parking lot of Victory Baptist Church in a black Chevrolet Silverado laying drag in the grass of Victory Baptist trying to get away from the arriving officer.
He almost hit the officer head-on when he tried to get away on Hendrix Road but left his lane, then rolled down his window to yell at the officer and pulled back into the church parking lot.
Marchbanks was reported by officers to initially get out of the vehicle "in a hostile manner" by slamming the door of the truck and approaching the first responding officer but was kept at a distance since it was unknown if he had a weapon.
Police reported that Marchbanks "was acting irrationally," yelled obscenities and paced back and forth. During the incident, he specifically stated he "wasn't going to jail" and "I love her I can't lose her" before he tried to walk to where his family was in another vehicle, but was ultimately taken into custody before anything else could happen.
Once police gained control of the situation, Marchbanks' family explained that the incident began with an argument on the way from Cedartown to Gainesville to buy a dog that became heated. He pulled into the church parking lot and began to make donuts on the new asphalt and let items fly out the back – including a full cooler, dog accessories, garbage and parts of the truck.
The report stated that Marchbanks stopped, got out, got onto the hood of the truck and began yelling again before he was locked out when family members feared for their safety.
Ultimately help arrived and the family left the truck, and Marchbanks was about to drive off when officers arrived.
Upon searching the vehicle, police found multiple bags of suspected marijuana, a joint, two THC pens, a bag of several doses of Xanax and a bag of shake.
Marchbanks remains in the Polk County Jail after evaluations at the hospital at Polk Medical Center on a $24,500 bond.
He was charged with felonies for vandalism to a place of worship, Possession of a Schedule I Controlled Substance, Possession of a Schedule IV Controlled Substance, and misdemeanor charges of reckless driving, possession of marijuana less than an ounce, drugs in original container and failure to yield when entering/crossing roadway.