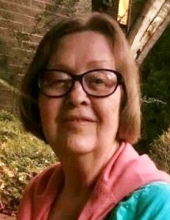 Ms. Sylvia Patty Simms, age 76, passed away on Monday, August 3, 2020. Ms. Simms was a resident of Rome, Georgia for many years. She chose to spend her last days at Evergreen Rehabilitation Center. Ms. Simms was blessed to be at Evergreen where her granddaughter, Kristen, works. She was cared for by an attentive and compassionate staff. The family would like to express their gratitude for the care and attention Ms. Simms received.
Ms. Simms was born in Centre, Alabama on February 21, 1944 to the late James Collins and the late Eulee Patty to whom much credit is given for shaping her life. Ms. Simms was the youngest sibling of seven children. Her brothers: James Patty and Marion (Uncle Hunk) Patty; sisters: Janice Patty, Josephine Patty, Alline Patty Robinson and Bettie Patty Parsons.
She is survived by daughters: Alicia Pinkard and Rebecca Washington (Kyle); Alicia's daughters: Kristen Brannon who developed a special connection as the first grandchild, (great-granddaughter Mary-Jane Hughes), Nicole Edenfield (great-grandson, Isaiah; great-granddaughters: Reagan and Tatum), and Riley Crone, along with Rebecca's children: grandson, Parker Washington and granddaughter, Eden Washington. Ms. Simms had a close bond with her sister Bettie's daughter, Charlotte Barron, which her family would like to acknowledge.
A private memorial will be held by the family at a later date in acknowledgement of current CDC guidelines as related to COVID-19.
In lieu of flowers, the family requests respects be paid as a donation to Old Providence Cemetery Fund in care of United Community Bank, 15 Cedartown St, SW, Cave Spring, GA 3014. Their contact number is (706) 477-3367. Those close to Ms. Simms will understand the family significance held at Old Providence Cemetery. Ms. Simms passion for genealogy would be well remembered with donations to a small family cemetery. The likes of historical sites provided hours of research and enjoyment of documentation for her.
The Smith & Miller Funeral Home of Cedartown is honored to serve the family of Sylvia Patty Simms.