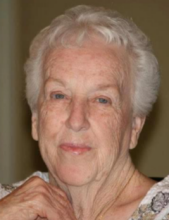 Mrs. Joyce Weaver Stringer was born at home on September 17, 1932. She was the daughter of the late John T. Weaver and the late Julia Landers Parrish. Besides her parents, she was preceded in death by her husband Joe E. Stringer and step father Cecil Parrish.

Joyce was the first of four children. She married her sweetheart and built a life in Rockmart, GA. She gave life to four children, but many others called her mom as well. She taught without teaching. She was a friend to all who knew her. She never judged, and she never shared- she was the gate keeper of all secrets. She loved watching Days of Our Lives and the Atlanta Braves., even through the bad years. She loved porch sitting and could be found most days enjoying the day from her special place. She loved being a MeMe. At age 87, getting up in the morning to get to spend her 20 minutes of special time with Layla Grace before school. She loved to travel and watching her grandchildren and great grandchildren participate in sports.

Joyce was a member of New Hope Baptist Church. She passed peacefully, surrounded by her daughter Julie and granddaughter Jesse. She was greeted in heaven by her husband Joe, her father John Thomas Weaver, mother, Julie Landers Parish and sister Donna Robinson as well as many loved ones. She's not jealous anymore. She is at home.

She is survived by her three daughters: Julie Brookshire and her husband Timmy, Leann Howell and her husband Larry and Vickie Garrett and her husband David all of Rockmart; one son, Joe E. Stringer, Jr. and his wife Kathy, Rome; her brother and sister in law, John and Wynelle Weaver, Kennesaw; her sister, Bonnie Deems, Rockmart; grandchildren and great grandchildren along with many nieces and nephews.

Graveside funeral and interment services will be held Saturday, August 29, 2020 at 1:00 pm in the Rose Hill Cemetery with Rev. Jason Stringer and Rev. Pam Darden officiating.

Pallbearers will include: Logan Brookshire, Dalton Brookshire, Adam Dean, Ken Stringer, Zach Britt and Alex Britt. Nieces will serve as honorary pallbearers and include: Sherry Baxter, Teresa Reeve, Noot Short, Tina Lanier, Lisa Boliver, Joann Hindmon, Janice Meek and Catherine Stringer.

The family will receive friends at the funeral home on Saturday from 11:00 am until 12:45 pm prior to the service.

The Alvis Miller & Son Funeral Home & Crematory is in charge of the funeral service for Mrs. Joyce Weaver Stringer.