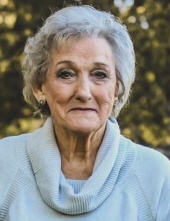 Mrs. Irene Franklin, age 86, of Cedartown (the Fish Creek Community), passed away Sunday, October 4, 2020.

Irene was born in Rockmart, GA on February 23, 1934, a daughter of the late William Thomas Upton, Sr. and the late Mattie Lee Waddell Upton. A native of Polk County, Mrs. Franklin was owner/operator of Double Discount Shoe Store in Cedartown for fifty-five years. Irene was also known over the years as one of Polk County's school bus drivers where she served for thirty-one years. Over those thirty-one years driving a school bus, she made many positive influences on young people's lives that will never be forgotten. She enjoyed her cattle, flowers gardens, square dancing, traveling, but her greatest enjoyment was spending time with her family and grandchildren. Irene was a member of the Morning View Baptist Church.

In addition to her parents, she was preceded in death by her husband, Gene Franklin; eight brothers and sisters: Lucille Hudson, W.T. "Bill" Upton, Sr, Cecil Upton, Odessa Moss, J.O. Upton, Russell Upton, Robert Upton, and Inez Sorrells.

Survivors include her three children: Charlie Franklin, Jr. and his wife, Linda, Cedartown, Sissy Phillips and her husband, Steve, Fish Creek, and Barry Franklin, Sr. and his wife, Anna, Fish Creek; grandchildren: Lyndsay Smithberger (Nick), Chelsey Franklin, Stephanie Clark (Tevin), and Barry Franklin II; great-grandchildren: Nash Smithberger, Brooks Smithberger, Tylen Tayton, and Lilliana Jean Clark; numerous nieces, nephews, and cousins also survive.

Funeral services will be held Wednesday, October 7, 2020 at 2:00 pm in the Morning View Baptist Church with Rev. Jeff Hulsey and Rev. Danny Tucker officiating. Interment will follow in Rose Hill Cemetery.

Pallbearers will include: Russ Upton, Tevin Clark, Tommy Winters, Herbert Sorrells, Mickey Upton, Harris Battle, Lee Battle, and Tony Scott.

The family will receive friends Tuesday evening from 6:00 until 8:00 pm at the funeral home. Social distancing guidelines will be followed and facial covering are recommended.

The Alvis Miller & Son Funeral Home & Crematory is in charge of arrangements for Mrs. Irene Franklin.