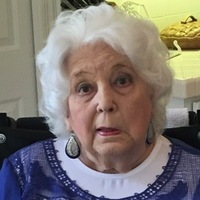 Ida Earline Smith Odom, beloved mother, grandmother and great grandmother, 93, of Florence, AL, formerly of Cedartown and Chamblee, GA, entered into the presence of her LORD and Savior, Jesus Christ, on August 9, 2020. She joins her loving husband James Henry, little daughter Geverna, son Wayne, grandson Farrell Jr., brother Robert and parents who preceded her in death.
Visitation will be held on Friday, August 14, 2020 from 12-1:00 at Lester C Litesey Funeral Home, Cedartown. The funeral service will follow at 12:00 p.m. in the funeral home chapel with Rev. Robert Wright officiating.
She is survived by son Farrell (Janet), daughters Sherry (Stan) and Lolita (Joe), and daughter-in-law Clara-Jean. She is also survived by 9 grandchildren, 13 great grandchildren, as well as a host of nieces and nephews whom she dearly loved including one special nephew Gary Smith.
Earline was born March 21, 1927, to Samuel and Maudie Lee Smith in Florence, AL. She worked as a Chemical Administrative Assistant at Ashland Chemical Company (Atlanta, GA) from where she retired after 42 years in the workplace. She was highly respected not only for her work ethic and productivity, receiving many awards, but also for her kind and genteel spirit, always thinking of others first. She was a gifted Bible teacher, loved music and played many instruments.
Her home was filled with love, laughter, music and food. She taught us to love Jesus and to understand that we can do nothing without Him. She taught us not only by her words but by her life of humility and faith that God's Holy Word is preeminent and that we can trust it and believe its promises because God is faithful. She taught us how a woman of God lives a life of sacrifice and service as a wife, mother, grandmother, daughter and friend. We learned from her example that prayer is powerful and REALLY WILL move mountains. Through the unexpected deaths of very dear family members and the last 9 years of life after a catastrophic stroke, her suffering taught us that a life filled with the Holy Spirit demonstrates endurance of hardship with great grace and perseverance, never complaining, but always responding with "we don't need to question God, He knows what He is doing". We have been blessed beyond anyone to have had her as our mother. For from her, we have experienced the very love of God. In this life she walked in obscurity, but for those privileged to have known her, unknown to them, they walked in the presence of greatness.
Condolences can be made to the family by visiting our website at www.liteseyfh.com and sign the online guest book.
The Lester C. Litesey Funeral Home has charge of the Funeral services for Ida Earline Smith Odom.