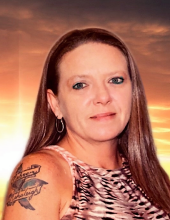 Mrs. Hope Marie Dawson Williams, age 45, of Cedartown, passed away Sunday, July 19, 2020.
Hope was born in Rome, Georgia on October 19, 1974 to Doyle & Barbara Farmer Dawson. Hope had a big heart and was always willing to help others. She loved taking care of her family and any other family needing help. She loved to cook a big meal so everyone could be together as family.
She was preceded in death by her father, Doyle Dawson; grandparents, John & Gladys Dawson and Roy Farmer & Lucille Hitchcock.
Hope is survived by her husband, Jimmy Williams; daughter, Mahaleigh Dawson; son, LaBron Jenkins; stepdaughter, Brooklyn Williams; stepsons, Gage Williams & Landon Motes; her mother, Barbara Dawson; brother, Kenneth Dawson, Tony Dawson, and Darrell Dawson; sisters, Judy Wood & Donna Lawrence. Several nieces, nephews, and cousins also survive.
The family may be contacted at her mother's residence at 75 Whitman Loop Rd Aragon, GA 30104.
The family will gather at a later date to celebrate her life.
The Smith & Miller Funeral Home is honored to serve the family of Hope Marie Dawson Williams.