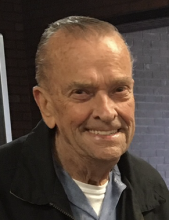 Mr. Victor Lee Woodlee, age 82, of Powder Springs, GA passed away Tuesday, September 22, 2020 in Austell,GA.

He was born on May 19, 1938 a son of the late William Lee Woodlee and the late Eunice Powell Woodlee. He spent his early childhood in Alabama before joining the United States Air Force serving from 1956 to 1960. Mr. Woodlee moved to Georgia in the early sixties and has made his home in Powder Springs since the late seventies. He was a member of the First Pentecostal Church of Villa Rica. Mr. Woodlee enjoyed fishing, hunting and spending time with his grandchildren. He was a retired employee of Blue Circle Cement Company. where he was employed for thirty years.

In addition to his parents he was preceded in death by his wife Syble Woodlee on July 14, 2020 to whom he was married on April 4, 1965 and by a brother, John Woodlee.

Survivors include two sons: Jeff Covington (Jennifer), Douglasville and Len Covington (Lori), Bremen; five grandchildren: Julie Staton, Michele Fields, Toni Covington, Scott Covington and Zachary Covington; five great grandchildren: Macy Staton, Carter Staton, Lily Covington, Levi Covington and Waylen Fields; brother, Joe Woodlee, Temple and three sisters: Sylvia Covington, Douglasville, Ruth Earl, Roanoke, AL and Mae Humphries, Pell City, AL. A number of nieces and nephews also survive.

Funeral services will be held Friday, September 25, 2020 at 11:00 am in the chapel of the Alvis Miller & Son Funeral Home with Brother Eddie Allen, Brother Jimmy Ward and Jim Speer officiating. Interment will follow in the Aragon Cemetery.

Pallbearers will include: Matthew Staton, Kyle Fields, Scott Covington, Zachary Covington, Shane Ward and Bailey Ward.

The family will receive friends Thursday evening from 6 until 8 pm at the funeral home. Social distancing rules are to be applied and masks are recommended.

The Alvis Miller & Son Funeral Home & Crematory is in charge of arrangements for the funeral of Mr. Victor Lee Woodlee.