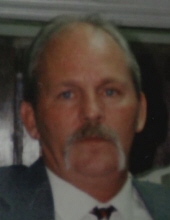 Mr. Robin Dewayne Stargell, age 59, of Cedartown, Georgia passed away Tuesday, July 7, 2020.
Robin was born January 1, 1961 in Gadsden, Alabama to Bobby Tryn Stargell and Shirley Link Stargell. He spent the greater part of his life in Alabama before moving to Polk County 16 years ago. Robin loved to fish and hunt. He enjoyed spending time with his grandchildren and loved the University of Alabama football. Robin was of the Baptist faith.
In addition to his father, Bobby Tryn Stargell, he was preceded in death by 2 sisters: Rhonda Sue Vance and Christy Penland; his grandson, Lucas Brown and niece Tiffany Hightower.
Survivors include his wife, Sherry Stargell, Cedartown; 2 sons: Cody Neyman , Centre and Dewayne Stargell, Centre; 2 daughters: Ashley Jackson (Neal Coleman), Cedartown and Latasha McNamara (Frank), Rome; 5 grandchildren; Mother, Shirley Williams (Joe), Centre; 3 brothers: Jackie Stargell (Jamie), Centre, Virgil Penland (Laura), Cedartown, Charles Penland (Dana), Ben Wheeler, Texas; 2 sisters: Brenda Horton (Chris), Centre and Tammy Harris (Steve), Centre along with several nieces and nephews.
Funeral services will be held Friday, July 10, 2020 at 1:00 PM in the Chapel of The Smith & Miller Funeral Home with Mr. Dennis Harrell and Mr. Randy Meeker officiating. Interment will follow at Cedar Hill United Methodist Church Cemetery in Leesburg, Alabama.
The family will receive friends Friday, July 10, 2020 from 11:00 AM until the service hour at Smith & Miller Funeral Home. Social distancing guidelines will apply.
The Smith & Miller Funeral Home is honored to serve the family of Mr. Robin Dewayne Stargell.