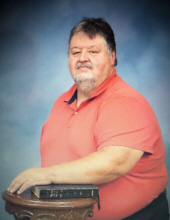 Mr. Perry Williams, age 56, of Rockmart, GA was promoted to Glory on Saturday, June 27, 2020.
He was born in Carrollton, GA on January 30, 1964, a son of the late Rufus Lee Williams and the late Sara Ellen Bush Williams. Mr. Williams had lived all of his life in Polk County and was a graduate of Cedartown High School. He was a twenty-five-year employee of Polk County serving as Supervisor of the Solid Waste Department. He was a very active member and Deacon of the Fairview Baptist Church of Rockmart. Mr. Williams was a twenty-year volunteer with the Polk County Fire Department and had served as Chief of Fish Creek Station # 6. Perry was a very devoted family man who enjoyed spending time with his grandchildren.
Survivors include his wife, Joyce Williams of Rockmart to whom he was married on July 24, 1993; daughter, Ellie Buchanan (Chris), Rockmart; brother, Bobby Williams (DeAnn), Cedartown; sister, Judy Williams, Cedartown ; and three grandchildren: Trevor Caldwell, Zander Buchanan and Bailey Dunn all of Rockmart.
Funeral services will be held Tuesday, June 30, 2020 at 1:00 pm in the Fairview Baptist Church with Rev. Billy Vines and the Rev. Dr. Aaron Johnson officiating. Interment will follow in Rockmart Memorial Gardens.
Active pallbearers will include: Bailey Dunn, Wayne Dunn, Junior Bollen, Jeremy Hulsey, David Bush, Cooter Wright, Bobby Waldrop and Joe Thomas. Honorary pallbearers will include the Deacons of Fairview Baptist Church, Fireman of Fish Creek Station # 6, Chuck Dawson and Doug & Terry Singleton.
The family will receive friends Tuesday from 11:00 am until the service hour at the Fairview Baptist Church with social distancing rules to be applied.
In lieu of flowers the family has requested that memorial gifts be made to the Fairview Baptist Church in Perry's memory.
The Alvis Miller & Son Funeral Home & Crematory is in charge of the arrangements for the funeral of Mr. Perry Williams.