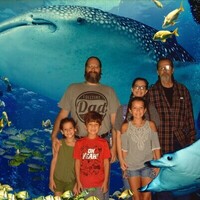 Mr. Michael Fredrick Aring, age 63, of Cedartown, Georgia, passed away on Thursday, August 13, 2020.  He was born on March 29, 1957 in Jacksonville, Illinois.  He was the son of the late Albert and Lillian Stroup Aring.
Mr. Aring is survived by his daughter, Amanda Aring; sons, Shawn Aring and Steve Gable; sister, Kay Desjarlais; brothers, Robert Aring (Ladonna) and Donald Aring (Lisa); and 9 grandchildren. Several nieces, nephews and other extended family also survive.
Mr. Aring is preceeded in death by his parents.
In accordance with local, state, and federal guidelines a private service will be held for Mr. Aring's family.
The family respectfully requests that all floral arrangements be omitted.
Messages of condolence can be made to the family by visiting our website and signing the online guestbook at gammagefh.com.
The Olin L. Gammage and Sons Funeral Home is handling the arrangements for Mr. Michael Fredrick Aring.