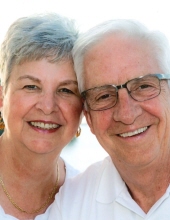 Retired Master Sergeant Larry Daniel Welchel, age 74, of Cedartown GA, passed away on Tuesday, August 18, 2020. He was born on January 15, 1946 to the late Clarence and Syble Welchel. He graduated from Cedartown High School in 1964 and Covenant College with a Bachelor of Science in Organizational Management. After serving active duty in the U.S. Air Force during Vietnam, he retired from the Air Force in 1995. He ended his career as a programmer analyst at Lockheed Martin.

He was an active and faithful member of Wimberly Hill Baptist Church, where he served as a deacon and adult Sunday School teacher. Outside of his church activities, he was an avid bicyclist. He enjoyed time on the Silver Comet Trail with his "Over the Hill Gang"

He is preceded in death by his parents, sister, Mary Ellen Hendrix, and father in-law, James McCombs.

He is survived by his loving wife of 55 years, Barbara McCombs Welchel; daughter and son-in-law, Stacy and Jack Kennedy; son, Jason Welchel; grandsons, Dylan and Nicholas Kennedy; sister, Bessie (Doug) Woods; brother, Steve (Debbie) Welchel; mother-in-law, Elizabeth McCombs; and sisters-in-law, Denise McCombs, Pat Turoso, and Sandy(Doug) Ballard. Also survived by numerous nieces and nephews.

Funeral services will be held Thursday, August 20, 2020 at 6:00 PM in the chapel of Smith and Miller Funeral Home with Rev. Robert Wright and Rev. Anthony Osborne officiating. Honorary pallbearers are James Bedford, Sammy Parnell, David Bush, Joe Benefield and Herschel Wright.

The family will receive friends Thursday, August 20, 2020 from 4:00 PM until the service hour at Smith and Miller Funeral Home. Social distancing guidelines will apply and masks will be required.

The family will have a private interment at Georgia National Cemetery in Canton, GA on Friday August 21, 2020. Clinton Green will officiate the service at graveside and military honors will be provided by the United States Air Force Honor Guard.

In lieu of flowers, the family is requesting donations to the following charitable organizations in Memory of Larry D. Welchel
Murphy Harpst Children's Center, www,murphyharpst.org/support, Or by mail at Murphy Harpst Children's Center, Attn: L Susan Stroup
740 Fletcher Street Cedartown GA 30125 or to Wimberly Hill Baptist Church P.O. Box 1346 Cedartown GA 30125.

The Smith & Miller Funeral Home is honored to serve the family of Retired Master Sergeant Larry Welchel.