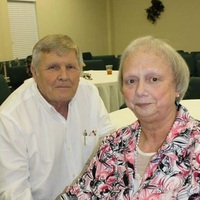 John Dudley Prince, age 76, of Cedartown, GA, passed away suddenly on Saturday evening, October 3rd, following a brief illness.
John Dudley Prince, a legacy within a name. It is not often that someone is known by their legacy, but this man had several. Dave, as his name was mistakenly understood, by his beautiful bride to be for over a year. Upon his return from Germany, he came back to Cedartown for the love of his life, and continued to answer to the name, Dave. This is the name the entire family came to know for him, and he never corrected any of them. He stole the hearts of the entire family and became a very vital part of the Fortune family. He was known as John for a few, and Dave to others, but his most accomplished title was, Baw. The enjoyment he found in each of his grandchildren surpassed any legacy that could be found.
He served many years in the United States Army as a staff sergeant, serving two tours in Vietnam. He received the National Defense Service Medal, Good Conduct Medal (2nd award), Vietnam Service Medal, Vietnam Commendation Medal with device 60, Army Commendation Medal, and two overseas service bars, SPS M-14, MM (Rifle M-1), and SS (Pistol .45). He then decided it was time to spend quality time with his family. He settled in Cedartown and decided to relocate to Pulaski, TN, where he worked at American Magotteaux. Eventually, life led the family back to Cedartown, where he began a career at the Hon company, where he stayed until his retirement. After a few years of living the retirement life, he decided it was time to go back to work. he worked several other jobs. The last being with Player and Company, before deciding to retire for good. He made numerous friendships along those journeys and cherished each one.
His retirement allowed for more quality time with his family. Spending time with family was one of the most important parts of his life. He showed each one unconditional love. His hobbies consisted of whatever was important to his family. He planned his days around the lives of his grandchildren, following them to school functions, sporting events, and dirt track racing. He had a love for each hobby that was important to them.
Mr. Prince was born on January 6, 1944 in Pulaski, TN, son of the late Lurton and Mary Prince. In addition to his father and mother, he was also preceded in death by step-father Ed Glover, brother David Prince, sister Marilyn Yant, and father and mother in law Troy and Mamie Fortune, brothers in law James Jarrell, Michael Fortune, and Sammy Fortune.
Baw is survived by the love of his life, his wife of fifty-five years, Carolyn Fortune Prince, son Chuck Prince (Debra), and daughter Angel Morgan (Todd), that he loved and adored with his whole heart. His grandchildren that became his world the day each was born, Amber Burdett (Josh), Andrew Prince (Hayley), Alec Morgan, and Alden Morgan. His great grandchildren, that completed his life, Elisha Burdett, Tori Burdett, Laney Burdett, Carys Burdett, and Averie Burdett. Also surviving are his sister, Bettye Lemay, brothers Paul Prince and Steve (Linda) Prince, brother in law Wayne Fortune, sisters in law Betty Jarrell and Esta Lewis. A number of nieces and nephews, who he loved very much, also survive.
Funeral services for Mr. John Dudley Prince will be conducted on Wednesday afternoon, October 7th at 3:00 pm, from the Chapel of the Lester C. Litesey Funeral Home, with Mr. Josh Burdett, Mr. Andrew Prince, and Judge Tony Brazier, speaking. Interment will follow in the North View Cemetery with military honors conducted by the United States Army Guard. The family will receive friends on Wednesday afternoon, October 7th from 1:00 pm until the funeral hour, at the Litesey Funeral Home.
The following gentlemen will serve as Pallbearers: Andrew Prince, Alec Morgan, Alden Morgan, Skylar Jones, Austin Wooten, and Ethan Carroll.
Baw always a smile on his face, and a sparkle in his eye, and a sweet spirit. If you had the pleasure of knowing him, then you knew he loved you. He wanted each person he encountered, to know that they were special and loved. His greatest passion was to show support to the ones he loved. He was an advocate for his and their dreams. To know him, was to love him. To be around him, was to feel joy. To touch him, was to feel a peace within yourself.
The family wishes to thank each and every extended family member and friend who has lifted us up during this difficult time. Please continue to pray for our family.
In accordance with CDC and federal regulations, please follow all social distancing guidelines. Masks are encouraged during the visitation and funeral service. Following appropriate guidelines ensures the safety and protection of the family we are serving, as well as visitors and our staff.
For personal condolences and to sign the online guestbook, please visit liteseyfh.com.
The Lester C. Litesey Funeral Home is in charge of the arrangements for Mr. John Dudley Prince.