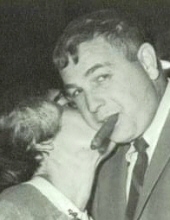 Joe Maddox of Rockmart Georgia passed away on Monday, June 29th at the age of 85.
Joe was born in the town of Fairview, Alabama on February 21st. 1935. He graduated from high school there and went on to graduate from Florence State College. He also earned his masters degree in education from The University of West Georgia.
He was married to Martha Jane Hite (Marty) On August 8th, 1958 . The young couple moved to Rockmart when a teaching position became available in Polk County. Over the next thirty years he worked as a teacher, principal and administrator. He stayed active in his retirement with his many hobbies i.e. furniture making, carving and collecting antiques.
He was preceded in death by his wife Marty of 53 years, his sister Nell, and his brother Bill.
He is survived by two sons; Todd and Scott Maddox; Scott's wife, Michelle and his two grandchildren Andrew and Alexandra Maddox. He is also survived by several beloved nephews and nieces.
Memorial services will be held Wednesday, July 8, 2020 at 1:00 pm from the graveside of Rose Hill Cemetery.
In lieu of flowers, donations can be made to the First United Methodist Church of Rockmart, Ga.
The Alvis Miller & Son Funeral Home & Crematory is in charge of arrangements for Mr. Joe Maddox.