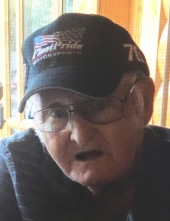 Mr. Harold Witt, age 82, of Rockmart, GA passed away Saturday, September 12, 2020.

Mr. Witt was born in Rockmart, GA on July 23, 1938, a son of the late Robert Bob Witt and the late Virgie Quick Witt. He had lived all of his life in Polk County where he was a member of the Lakeview Baptist Church. Harold loved NASCAR, University of Tennessee Girls Basketball and Softball. Mr. Witt was a former employee of General Motors where he worked at the Lakewood Plant. In addition to his parents, he was preceded in death by his sister, Barbara "Bobbie" Supthin; and brother-in-law, Billy Supthin.

Harold is survived by his two daughters: Rita Kinser (Junior), Jasper, GA and Marline Garner, Temple, GA; son, Robbie Witt; six grandchildren: Brandy Nichols (Eddy), Julie Gaydon (Ricky), Matt Kinser, Dale Garner (Lisa), Brian Garner (Heather), and Adam Garner; six great-grandchildren; one great-great-grandson; and several nieces and nephews also survive.

Funeral services will be held Monday, September 14, 2020 at 2:00 pm in the chapel of the Alvis Miller & Son Funeral Home with Rev. David Warriner officiating. Interment will follow in the Aragon Cemetery.

Pallbearers will include: Matt Kinser, Eddy Nichols, Junior Kinser, Dale Garner, Brian Garner, and Adam Garner.

The family will receive friends Monday from 10:00 am until the funeral hour at the funeral home. Social distancing rules will be applied and the family has requested that masks be worn.

In lieu of flowers, memorial donation may be made to the charity of your choice or your local church in memory of Mr. Witt.

The Alvis Miller & Son Funeral Home & Crematory is in charge of arrangements for Mr. Harold Witt.