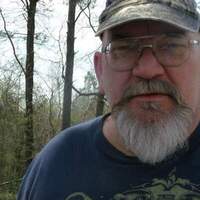 Mr. David Eugene McCulley, age 62 of Cartersville, Georgia, passed away on Monday, August 17, 2020. He was born on December 29, 1957. He was the son of Rita Foust McCulley and the late Eugene McCulley.
Mr. McCulley is survived by his fiancée, Rita Robbins; daughters, Stacey Overby and Ashley Melendez; sons, Thomas Overby (Heather) and Patrick Oakley; 3 sisters, 4 brothers; and grandchildren, Estoria, Clayton, Courtney, Devlyn, Anthony, Christopher, Winter, Cassie, Haley, Terry and Cheyenne. Several nieces, nephews and other extended family also survive.
Mr. McCulley was preceded in death by his father and one sister.
In keeping with Mr. McCulley's wishes, he was cremated. In accordance with local, state, and federal guidelines a private memorial service will be held for Mr. McCulley's family.
Messages of condolence can be made to the family by visiting our website and signing the online guestbook at gammagefh.com.
The Olin L. Gammage and Sons Funeral Home is handling the arrangements for Mr. David Eugene McCulley.