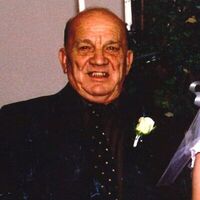 Mr. Coye Milton Patterson, age 85, of Cedartown, Georgia, passed away on Tuesday, January 25, 2022. He was born on January 2, 1937, in Cedartown. He was the son of the late Charlie and Jettie Pearl Chanell Patterson.
Mr. Patterson is survived by his daughter, Renee Garner; sons, Ken Patterson and Eddie Patterson; 8 grandchildren, 17 great-grandchildren; 4 great- great grandchildren; and several nieces and nephews.
Mr. Patterson is preceded in death by his parents; wife, Elizabeth Haynes Patterson; sons, David Patterson and Butch Patterson; sisters, Evelyn Bailey, Syble Pitts, Betty Cosby, and Jewell Wilson; brother, Jerry Patterson; and daughter-in-law, Lena Patterson.
The funeral arrangements for Mr. Coye Milton Patterson will be held on Friday, January 28, 2022 at one o'clock in the afternoon in the chapel of the Gammage Funeral Home with Rev. Danny Tucker and Rev. Dennis Harrell officiating, and Mr. Ken Patterson giving the eulogy.
Interment will follow in the Polk Memory Gardens Cemetery.
The family of Mr. Patterson will receive family and friends on Thursday, January 27, 2022 from six o'clock in the evening until eight o'clock in the evening at the Gammage Funeral Home.
The following gentlemen will serve as pallbearers: Jason Patterson, Chad Garner, Chad Patterson, Hunter Patterson, Kerry Eason, Trenton Garner, and Will Puckett. Honorary pallbearers will be Logan Goddard, Jacob Bradford, and Walker McCown.
Messages of condolence can be made to the family by visiting our website and signing the online guestbook at gammagefh.com.
The Olin L. Gammage and Sons Funeral Home is handling the arrangements for Mr. Coye Milton Patterson.