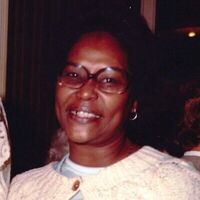 Jessie Bell Bankston, a lifelong resident of Cedartown, passed away on Saturday, August 22, 2020, at the age of eighty-six.
Jessie is survived by her son, Jerry Lewis (Jake) Bankston; granddaughter, Jeneen Brownly; great-granddaughter, Ariel Brownly; great-grandson, Nathaniel Brownly, all of Cleveland, Ohio; niece, Vanessa Cook; and along with many nieces and nephews.
Jessie is preceded in death by her parents, James Edward and Sarah Bell, Sr.; sisters, Sherlyn Pledger and Mary Frances Riles; and brothers, James Edward Bell, Jr. and Allen Bell.
Jessie is also survived by friend of sixty-five years, Mrs. Zan Gammage and her almost adopted children, Karen, Miles, Toodles, and Muff; to whom she was an advisor, teacher, disciplinarian, loving daily presence, jitterbug instructor and card shark for over fifty years.
Jessie was a woman of deep and abiding faith and was a member of Cedar Springs Baptist Church. Jessie never met a stranger and always had her arms wife open for a hug. She will be most remembered for her humor, her kindness and her hundred watt smile. She was much loved and will be dearly missed.
In accordance with the guidelines and recommendations set forth by the CDC, social distancing guidelines will be in place as well as the use of masks requested for all services provided for Mrs. Jessie Bell Bankston.
Visitation for Jessie will be held on Friday, August 28, 2020 from five o'clock in the afternoon until seven o'clock in the evening at the Gammage Funeral Home.
A graveside service will be held on Saturday, August 29, 2020 at two o'clock in the afternoon at the Chubbtown Cemetery Rev. Kenneth O. Brown of Galilee Baptist Church officiating.
Messages of condolence can be made to the family by visiting our website and signing the online guestbook at gammagefh.com.
The Olin L. Gammage and Sons Funeral Home is handling the arrangements for Mrs. Jessie Bell Bankston.