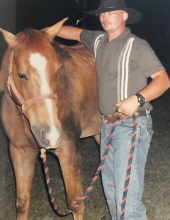 With the deepest sorrow, we announce that William "Shane" Beck, age 41, son, brother, nephew, and friend, passed away Sunday, August 8, 2021, in Rome, Ga. surrounded by his loving family.
He was raised in Cedartown, Ga, and grew up out on the Piedmont Highway where his love for horses began. His first horses were named Clyde and Fire and they both had huge personalities.
Shane has had many beloved horses since then. He shared his passion for horses with his dad, and they spent most of their time around horses.
Supremely confident in his abilities from an early age and to his parents' dismay, Shane began taking everything apart in order to put it back together again.
After much trial-and-error, Shane could take a motor apart and put it back together without a part left over. He loved to tinker and could fix anything put in front of him.
Shane is survived by his mother Marie Blankenship Beck, his father and stepmother William Paul and Dean Beck, his sister Jaime Beck Brady, his children, Felicity Beck, Brandon Beck, Maddox Beck, and Jaxson Beck, and his grandchildren, Baislie-Ann Marie, Blaire Rose, and Bryxtin William Cantrell; aunt, Pam Holland, and special extended family: Jason and Allison Adams and their children Hayes, Ella and Joshua.
Shane joins and is praising Jesus with his beloved grandparents, Mary Jo Roberts and William Paul Beck, Sr. and Bobby Gene Blankenship, Sr. and Donis Bedford Blankenship and uncle, Dennis Holland.
Shane was a jokester, and we will all remember his huge sense of humor. He kept his family and nurses laughing up until the end. Let us all share our stories and let laughter fill the rooms. That is what he would have wanted.
The family will receive friends Friday, August 13, 2021, from 6:00-8:00 PM at the funeral home.
A private memorial service will be held at a later date.
In lieu of flowers the family requests donations be made to The Smith & Miller Funeral Home to help with the funeral expenses.
The Smith & Miller Funeral Home is honored to serve the family of Mr. William Shane Beck.