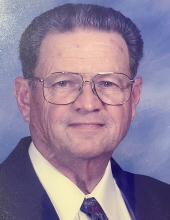 Mr. Webb Whitfield, age 82, of Rockmart, GA passed away peacefully on Tuesday, June 21, 2022 at the Pearl in Dallas, GA.
Mr. Whitfield was born in Atlanta, GA on July 4, 1939, a son of the late William Webb Whitfield and the late Edna Velera Morrow Whitfield.
Rockmart has been home for Mr. Whitfield for the past twenty-one years moving from Powder Springs. He enjoyed wood working, working on cars, and dirt track racing. He was a member of Rockmart First Baptist Church, and he was a fifty-year mason as a member of the Dallas Lodge # 182 F&AM.
He was a tile setter and builder for many years. Mr. Whitfield was a devoted and loving husband, father, and grandfather.
In addition to his parents, he was preceded in death by his brother, Bobby Whitfield; sisters: Geraldine Teal, Elera Jones, and Mary McDonald.
He is survived by his loving wife of sixty-five years, Mary Whitfield; three sons: Tony and Cathy Whitfield of Trussville, AL, Brad and Shelly Whitfield of Rockmart, GA and Stacy and Susan Whitfield of Rockmart, GA; four grandchildren: Deidra (Jake) Herring of Trussville, AL, Jeff (Lauren) Whitfield of Dallas, GA, Cliff (Hunter) Worthen of Rockmart, and Justin (Josie) Whitfield of Rockmart; five great-grandchildren: Wyatt, Dixie, Lily, Rhett, and Ryman.
Funeral services will be held Thursday, June 23, 2022 at 2:00 pm in the chapel of the Alvis Miller & Son Funeral Home with Rev. Johnny Foster and Rev. Bill Rorie officiating. Interment will follow in Rockmart Memorial Gardens with Dallas Lodge # 182 F&AM providing masonic graveside rites.
Pallbearers will include: Tony Crowe, Danny Ferguson, Eddie Mashburn, Greg McDonald, Jack Hernig, and Ronnie Johnson.
The family will receive friends Wednesday evening from 5:00 pm until 8:00 pm and also on Thursday from 12:00 pm until 2:00 pm at the funeral home.
Alvis Miller & Son Funeral Home & Crematory is in charge of arrangements for Mr. Webb Whitfield.