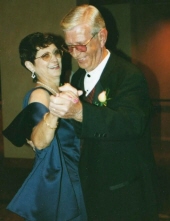 Wanda Jean Shumaker Moring passed away peacefully, surrounded by loved ones, at her home on Thursday, May 5, 2022.
Mrs. Moring was born on May 3, 1938 in Rainelle, West Virginia to her parents, the late Fulton and Mary Ann Shumaker.
Wanda had four loving, doting brothers – Mr. Paul Shumaker of Roanoke VA; the late Mr. Sonny Shumaker of Bradenton, FL; the late Mr. Kyle Shumaker of Richmond, VA; and the late Mr. Keith Shumaker. Rainelle, WV. They all thought she hung the moon and treated her as the princess she was.
On December 12, 1958, Wanda married the love of her life Mr. Fred Moring. They were married for 49 years before Mr. Moring's passing after a long battle with cancer. Mr. and Mrs. Moring had three loving children: Mickey Moring of Rockmart, GA; Kelly Henson, née Moring of Rockmart, GA, and Wendy Crites, née Moring, of Chandler, AZ. Mrs. Moring leaves behind ten adoring grandchildren: Evan, Jordy, Emily, Brandon, Matt, Will, Ozzy, Ryan, Tucker and Noah.
Wanda was active in her church and community – mostly fulfilling her love of her's and other's children. She was a teacher's assistant for 22 years at both Eastside Elementary and at Euharlee Kindergarten School and was a faithful member of First Baptist Church for over 40 years serving in the nursery and other children's events.
She was also active in her WMU Circle group. Wanda enjoyed serving in many different events at the local Elementary and High Schools which included working the Rockmart High School's concession stand and chaperoning many of her daughter's band trips. She enjoyed supporting her grandchildren by attending many of their sporting events, school and Church plays, and graduations.
Wanda had an immense love for dogs, especially dachshunds – of which she had several during her adult lifetime. Each of them had their own spunky character and she loved to spoil Duke, Scooter and Shadow by treating them like her own children – even making them chubbier by giving them more of her own food than she ate herself. It would be quite amusing for the neighbors to see these chunky dogs drag her through the neighborhood on their morning and evening walks.
Before Alzheimer's disease, Wanda could often be found with a book in her hand, as she was an avid reader. She instilled that love of reading in her children and grandchildren; all was right in the world as long as you were on the couch, in her lap with either her or you were reading aloud to each other a favorite book.
Wanda personified love in her every action. Whatever Wanda did, you saw her as a perfect example of what Christ has called us to be – a faithful and loving servant. She was truly the hands and feet of God and instilled in her children that agape love; she was an extraordinary role model to those around her who put others first and helped whenever she could. To know Wanda was to know love.
Mrs. Morings Celebration of Life Service will be held on Monday, May 9, 2022 at First Baptist Church, 311 E. Elm Street. The family will welcome friends, family and guests from 1:00-3:00 pm in the Great Room of the First Baptist Church. Mrs. Moring's Celebration of Life Service will be at 3:00 pm in the sanctuary of First Baptist Church. Interment will follow the service at Rockmart Memorial Gardens. The pallbearers will be her grandchildren: Evan Henson, Jordy Henson, Connor Hubbard, Brandon Crites, Matthew Moring, and Ozzy Moring. The family would also like to honor Mrs. Moring by having her WMU Circle group serve as honorary pallbearers.
Alvis Miller & Son Funeral Home & Crematory is in charge of the arrangements for Mrs. Wanda Jean Moring.