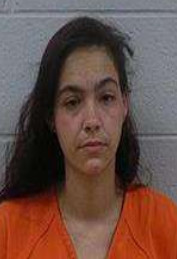 A Powder Springs woman remains in the Polk County Jail on drug charges after police found her unconscious in the driver's seat of a car that struck a house in Rockmart, according to police reports.
Rockmart Police arrested Janice Elizabeth Crane, 26, of 4012 Lafayette Drive, Powder Springs, on a trio of drug charges after they arrived around 4:30 a.m. on Tuesday, April 13, to a complaint that a vehicle struck a house on Clearwater Street.
The white 2011 Hyundai Sonata only had damage to the rear bumper, but inside they found Crane in the drive's seat unconscious, and a glass pipe in the driver's side door pocket. An additional search of the vehicle turned up two oval pills identified as a form of Hyrocodone in a black fabric pouch lying in the driver's seat.

Crane was booked on felony charges of possession of methamphetamine and possession of a Schedule II controlled substance. She also was booked on the misdemeanor charge of possession and use of drug related objects.
She remained in jail as of this report on a $9,000 bond.
No damage was reported to the Clearwater Street house, per Rockmart Police reports.