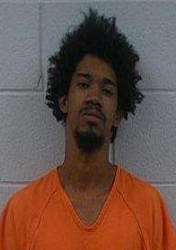 A Rockmart man remains in jail with bond denied after threatening to kill family members with a knife, then struggling with officers and spitting on one of them during his arrest while claiming his Islamic beliefs gave him the right to do so.
Chase Dayterrian Benham, 28, of 713 Church St., Rockmart, was taken into custody on April 16 on multiple misdemeanor charges and a felony parole violation charge after police responded to a domestic dispute at his address around 6 p.m.
According to the report, family members called in law enforcement fearing for their lives after Benham seemed to be experiencing mental issues and began threatening to kill at least one of the victims involved with a knife. He additionally pushed down another victim when the altercation became more heated. One family member stated that "she was tired of law enforcement not doing anything about Chase and that he was going 'to kill them all one day.'"
Benham's family also reported to officers he had been using drugs, and visiting a methamphetamine dealer.
According to the report, Benham was agitated when they arrived and continued to talk about his Muslim beliefs and at one point was quoted to have said "if she don't do today…Ima kill her…and I got every right by God…and I can show it to you in the book…my religion."
Police determined after listening to multiple statements that Benham had committed several offenses and took him into custody. He struggled with officers while being taken out of the house, and spat on an officer's leg while being placed in the patrol vehicle.
Rockmart Police charged Benham with misdemeanors for simple battery against a police officer, two counts of obstructing law enforcement officers, four counts of cruelty to children, simple battery against a person who is 65 year or older or is pregnant at time of the offense.
He also remained in jail on a felony parole violation. Benham was denied bond.