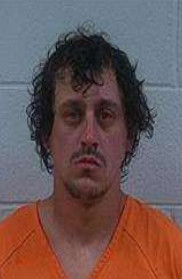 A Ford Mustang that was wrecked and abandoned by the driver in the middle of the night was found by police, and the man responsible was ultimately jailed after initially trying to report it was stolen overnight.
Police jailed Christopher Dylan Edwards, 27, of 448 Pine Road, Rockmart, on multiple charges on Saturday after his 2006 Ford Mustang was found wrecked by a property owner in the area around Pine Mountain and Fish Creek Roads.
Polk County Police reported that the property owner stated he had been working on fencing until late in the evening on Friday and the wreck must have happened after 10 p.m. when he wrapped up. He estimated the damage to only be $300 to his property.
The damage to the Mustang wasn't fully detailed, but enough to make the driver leave it with what was also discovered inside. Officers searched and found open beer cans, a small amount of marijuana, and receipts bearing the driver's name, Christopher Edwards.
Police first tried to contact his parents, since they were listed as the owners of the vehicle. They initially couldn't find them and had a wrecker come pick up the Mustang from the property. During their investigation at this time, they also learned Edwards had a suspended license and the vehicle had no insurance.
Police ultimately got a call from Edwards' mom, and the report explained her son called the night before around midnight Saturday morning to report the car had been stolen and to call police. She didn't call until the morning to report it, and that she hadn't spoken to her son since the incident.
Officers tracked down Edwards to his Pine Road residence and he told officers initially that he had last seen the car at around 7 p.m. on Friday night, May 21 and then called his mother this morning to report the car stolen. Since the stories didn't match up, police became suspicious.
Upon pressing Edwards for an answer as to why the stories didn't match up, he ultimately confessed that he had wrecked the Mustang the night before. He said he hadn't meant to get his mother involved in his deception.
Edwards was taken into custody and booked on charges of driving while license suspended or revoked, failure to notify owner upon striking a fixed object, no insurance and a hit and run charge.
He was released after only a day in jail on a $3,180 bond.