More than 20 pounds of meth, along with other drugs seized after agents called in when an unresponsive male brought officers to house on Wednesday morning
One man in custody on multiple drug trafficking charges, more arrests expected
Victim treated and release from the hospital
A man on Prior Station Road who was found to have multiple pounds of methamphetamine, cocaine, heroin and marijuana – along with chemicals to process drugs – was arrested on Wednesday after police and other emergency personnel came to the house to help an unresponsive male.
Polk County Police officers arrived at the house not long after 911 was called out to help the victim at 1347 Prior Station Road at 8:41 a.m. on Wednesday morning, February 2, and found what they suspected to be an overdose. After the victim was helped, further help was called upon by the North Georgia HIDTA (High Intensity Drug Trafficking Area) Task Force to taken on what turned out to be a major drug bust.
In a release provided by the Polk County Police from agents with the Task Force, they explained that once they arrived they sought a search warrant and found what turned out to be a big stash of all kinds of drugs.

Police seized 12 kilos – or around 26.5 pounds – of methamphetamine hidden in a drop ceiling, along with a number of bags of marijuana, psilocybin mushrooms, cocaine, heroin, and another half-pound of meth.
They additionally upon further investigation found a meth processing lab, with a number of chemicals used to make the drug and another pound and a half of meth that was in the process of being made.
"Investigators discovered empty packaging that indicated the prior presence of an additional 69 pounds of suspected methamphetamine on the property," the release stated.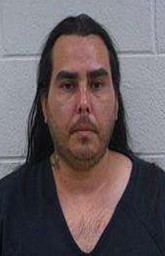 Police arrested Martin Goicochea Jr. on multiple felony charges and stated that additional charges would be forthcoming as the investigation into the drug operation continues.
The overdose victim was ultimately taken to Redmond Regional Medical Center for treatment and then released.
"Assistance at the location of the search warrant was provided by the Cedartown Police Department Patrol Division and K-9 Unit, Polk County Police Department Patrol Division and Criminal Investigation Division, and the Cherokee County Alabama Sheriff's Office. The North Georgia HIDTA Task Force consists of Task Force Officers from the Polk County Police Department, Floyd County Police Department, Rome City Police Department, the Whitfield County Sheriff's Office and the Drug Enforcement Administration," the release added.
Goicochea, 40, whose address was listed by the jail as 343 Chubb Town Road, Cedartown, remains behind bars this evening without bond set on the trio of felony charges for trafficking in cocaine, illegal drugs, marijuana or methamphetamine, possession of methamphetamine, and possession of methamphetamine with intent.
Check back for additional updates on this story as it continues to develop.