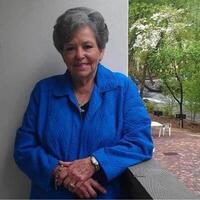 Mrs. Edna Marie Lefevers King passed into her heavenly home on July 15, 2021. She lived a full life, surrounded by family that she loved so much.
Marie was born March 19, 1932 in Mt Calm Texas and moved to Collard Valley in her teenage years. She married Sammie King on May 28, 1948 and they enjoyed farming for most of their life. Without a doubt, home was her favorite place to be.
She was preceded in death by her husband of 67 years, Sammie King, sons Ray and Randy King, parents Mamie and Zegie Lefevers, brother Harvey Lefevers, sisters Katherine Ellis, Wanda Giles, Barbara Arrington. Special cousin and best friend, Dink Godfrey.
She is survived by her daughters Robyn Watters (Daryl) and Rose Wise (Rodney), sisters Gere Arrington & Doty May.
Grandchildren – Kip & Mary Watters, Jason King, Stephanie & Doug Vail, Kyle & Shannon Watters, Charlie & Stacie King, Dustin Stinson, Jared & Melinda King, Katy Watters, Anna & Brett McCray, Drew & Emily Stinson, Jordan & Ashley McLendon
Great Grandchildren – Lily, Andy, Alyssa & Hayden, Isabella, Riley, Emma June, Bryant, Hunter, Addy, Sam, Annabelle, Woodson, Jacob, Jackson, Braden, Bex, Beau, Brant, and Barra Shae.
Great great grandson – AJ
Beautiful inside and out, Marie was known and loved by many. Her love for the Lord was evident to everyone she met…and her old pink Bible has been read through many times. Her passion for cooking was known across the Valley and you never left Nana's house hungry. Her coconut pies, chocolate cake, chicken and dressing, and "cheese and macaroni" were just a few of her signature dishes.
She had a deep love for her church family at Collard Valley Baptist where she was a faithful member for 75 years. She loved to sing hymns on this earth and now she will sing to Jesus forever in eternity. Nana made everyone feel special and loved. Some of her favorite times were spent at Weiss Lake with all of her family, and on girls trips with her sisters, daughters and granddaughters.
Nana kept us all laughing. She made each of her children and grandchildren a handmade quilt that they will treasure forever. She truly has left a legacy.
The visitation for Mrs. King will be held Saturday July 17, 2021 at the Lester Litesey Funeral Home from 6:00 to 8:00 in the afternoon. Funeral service will be held Sunday July 18, 2021 at the Collard Valley Baptist Church at 3:00 P.M. with Rev. Eddie Benefield and Rev. Rev .Robert Boatner officiating. She will lie in state beginning at 2:00 O'clock until the funeral hour. Interment will be at North view cemetery.
The following gentlemen will serve as pallbearers; Kip Watters, Kyle Watters, Jason King, Dustin Stinson, Drew Stinson, Charlie King and Jared King. In lieu of flowers, please make donations to Collard Valley Baptist Church in memory of Marie King.
A very special thank you to Teresa Harpole and Missy Burns for taking care of our Mother and Nana so well.
The Lester C. Litesey Funeral Home is in charge of the arrangements for Mrs. Marie King.