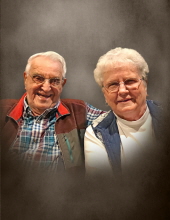 Mr. Thomas Wray, Jr., age 92, of Cedartown passed away Sunday, December 19, 2021.
Thomas was born August 21, 1929 in Cedartown, Georgia to the late Thomas D. Wray, Sr. and the late Mamie Dingler Wray.
He was the last founding member of the Blooming Grove Volunteer Fire Department. Thomas moved to Lime Branch Road in 1932 where he lived his whole life. He was a board member of the Polk County Water Authority, Zoning and Board of Registrars.
Thomas was a lifelong farmer who loved anything to do with the farm.
In addition to his parents, Thomas was preceded in death by his daughter, Gail West.
Survivors include his wife of 71 years, Ova Belle Morris Wray; children: Tommy Wray (Sue) and Steve Wray (Betty); grandchildren: Amy and Daniel Jacobo, Ben and Amanda West, Lauren and Zack Mattox, Leslie Whitton, Sabrina and Jason Agan, Matthew and Kaci Wray and Nick Wray; 12 great-grandchildren and 2 great-great- grandchildren and son in law, Duane West, Jr.
Funeral services will be held Wednesday, December 22, 2021 at 3:00 PM at Smith & Miller Funeral Home Chapel with Mr. Johnny Stowe, Mr. Nick Wray and Rev. Randy Vines officiating. Interment will follow at Lime Branch Cemetery.
The following will serve as pallbearers: Nick Wray, Matthew Wray, Ben West, Daniel Jacobo, Zack Mattox and Johnny Stowe.
The family will receive friends Wednesday from 1:00 PM until the service hour at the funeral home.
Smith & Miller Funeral Home is honored to serve the family of Mr. Thomas Wray, Jr.