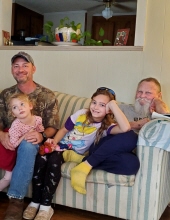 Mr. James Earl "Jimi" Frasier, age 73, of Cedartown, GA passed away on Monday, July 19, 2021. He was born on May 28, 1948 in Gadsden, AL, to his parents: H.V. Frasier and Aileen Espey Battles.
He was a graduate of Gadsden High School. Jimi was retired from Bowater Woodlands, where he cut and loaded trees and later was a land surveyor for several years.
In his free time, he enjoyed painting, playing the guitar, gardening, being outdoors, and collecting arrowheads.

Mr. Frasier was preceded in death by his father, Mr. H.V. Frasier.

Mr. Frasier is survived by his loving mother, Aileen Battles, son Clint Frasier and his partner, Jessica Payton, brother Glen Frasier and his wife, Debbie, brother Eugene Battles, sister Pam DeJohn, and two granddaughters, Coy and Lily Max Frasier and several nieces, nephews, and cousins.

Graveside Services for Mr. Frasier will be held on Wednesday, July 21, 2021 at Polk Memory Gardens at 11:00 AM with Rev. Dave Grove officiating.

The Smith & Miller Funeral Home is honored to serve the family of Mr. James "Jimi" Frasier.