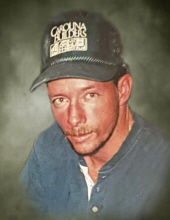 Mr. James Mickey Thaxton, age 54, of Rockmart, GA, passed away Monday, November 14, 2022.
A native of Rockmart and Polk County, Mickey was born November 25, 1967, son of Joyce Swann Thaxton and the late John Alton "Al" Thaxton.
He had lived his entire life in Rockmart and was a member of the Piedmont Avenue Baptist Church. Mickey worked in construction and loved horseback riding, collecting scrap metal, and tinkering with things.
In addition to his father, Mickey was preceded in death by a brother-in-law, Keith Morgan.
Mickey is survived by a daughter, Lisa Ann Smith of Taylorsville, GA; grandson, Logan Roby Smith of Taylorsville; mother, Joyce Thaxton of Rockmart; sister, Robin Morgan of Rockmart; brother, Michael Thaxton and his wife, Kim of Aragon, GA. Several nieces and nephews also survive.
Arrangements are incomplete and will be announced later by Alvis Miller & Son Funeral Home & Crematory.