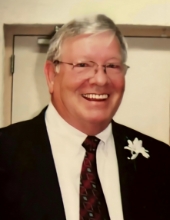 Mr. Jack Edward Stooksbury, age 81, of Rockmart, GA, passed away Wednesday, February 22, 2023.
Jack was born in Knoxville, TN, on April 7, 1941, son of the late Willard Cam Stooksbury and Willie Mae Lee Stooksbury.
He had been in the Rockmart area for the past 5 years, moving here from Gwinnett County. Jack was a former owner/operator of a local sales and retail business and was non-denominational in his faith.
He was an avid University of Georgia football fan, enjoyed fishing and camping, and spending time on the Silver Comet Trail. Jack cherished the time he got to spend with family.
Jack is survived by his wife, Jeanie Medlock Stooksbury, whom he married May 28, 1976; four children, Scott Edward Stooksbury, Kimberly Lynn Horne, Patrick Brian Stooksbury, and John Kelley Stooksbury. Seventeen grandchildren, three great-grandchildren, a sister, Patsy Noe, and three nephews also survive.
Memorial services for Jack will be Sunday afternoon, February 26, 2023, at 2:00 p.m. in the chapel of Alvis Miller & Son Funeral Home with Mr. Patrick Horne officiating.
Jack's family will receive friends at Alvis Miller & Son Funeral Home Sunday from 1:00 p.m. until the service hour.
Alvis Miller & Son Funeral Home & Crematory has charge of the arrangements for Mr. Jack Edward Stooksbury.