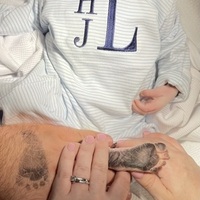 Little Mister Hudson Landers passed away Saturday, August 13, 2022. Hudson was born to Mr. Jaron and Megan Landers of Cedartown, Ga. Preceding him in death is his great grandfather James Jarrell.
Surviving Hudson is his parents, Jaron and Megan Landers; his fur brother Diesel; grandparents Stacy and Eddie Cooper and Lisa and Joe Landers; great grandparents Elizabeth Cooper, Jimmy and Shirley Landers, Betty Jarrell and Lois Johnson; ants and uncles Justin Williams, CJ and Adriana Landers and Jayca Landers.
A memorial visitation will be held Thursday, August 18, 2022, from four o'clock until six o'clock in the evening at The Lester C. Litesey Funeral Home.
To express your condolences online to the family, visit our website at www.liteseyfh.com and sign the online guestbook.
The Lester C. Litesey Funeral Home is honored to serve the family of Little Mister Hudson Landers.