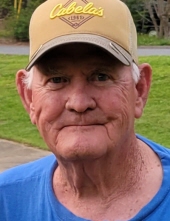 Mr. Howard Powell, age 79, of Aragon, GA, passed away on Friday, February 4, 2022.
Mr. Powell was born on June 22, 1942 in Euharlee, GA, to his late parents: Starling Powell and Bessie Godfrey Powell.
Howard lived all his life in the Aragon area and worked as a plumber for Aragon Plumbing. He enjoyed fishing, talking, old cars and putting miles on his Ford F-250. He was of Baptist faith.
Mr. Powell was a loving father, grandfather, great grandfather, great-great grandfather, uncle and friend who will be missed by all who knew and loved him.
In addition to his parents, he was preceded in death by his daughter, Kim Williams and 2 brothers and 5 sisters.
Mr. Powell is survived by his children: Starling (Stephanie) Powell of Canton, GA; Bessie (David) Hudson of Aragon, GA; 6 grandchildren; 12 great-grandchildren; 1 great-great-grandchild and a number of nieces and nephews.
In keeping with the families wishes, Mr. Powell will be cremated and a private memorial service will be held at a later date.
Alvis Miller & Son Funeral Home & Crematory is in charge of the arrangements for Mr. Howard Powell.