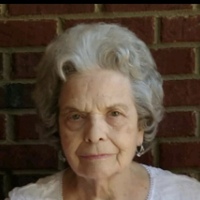 Mrs. Frances Hopkins Lankford, age 91, went home to be with her Lord on March 17, 2023. She was born in Cedartown on November 2, 1931, to her parents, Dan and Eula Hopkins. Frances was the youngest daughter with eight brothers and one sister.
She grew up in the country on a large farm in Cedartown and shared many fond stories about her life on the farm, but once she moved to town, she never looked back. Frances was DONE with the farm life.
In 1952 Frances married a young man from Cave Spring, Elmo Mitchell, who was serving in the military (Navy). They lived in Key West, FL, and Frances shared great memories made there. Frances and Elmo welcomed their baby girl Elaine in 1953, and in 1955 they moved to Cedartown.
A short while later, in 1956, tragedy struck when Elmo was killed along with four other men traveling from work at Lockheed. A widow at 24 with a two-year-old, Frances persevered. Frances would later marry L.T. "Cuz" Lankford, and six years later, they welcomed their baby daughter Tina into this world.
L.T. was a Cedartown policeman, and Frances was happy keeping the house in order and was the best homemaker and mother ever. Being members of Second Baptist Church for over 40 years, they especially loved traveling with the BAC.
Affectionately known as one of the "Fried Pie Ladies" at Second Baptist, the money earned from the pies helped to pay for a bus and other necessary items at the church. Prior to joining Second Baptist, Frances was a Sunday school teacher and helped with Vacation Bible School each year at Union Grove Baptist Church.
Besides her parents, Frances was preceded in death by her husband, Elmo Mitchell, and husband of 65 years L.T. Lankford. Siblings preceding her in death are Rebecca Kuglar, Emmett Hopkins, Fred Hopkins, Harold Hopkins, Charlie Hopkins, Walter Hopkins, Joe Hopkins, Oscar Hopkins and Mark Hopkins.
Survivors include Elaine and her husband, Anthony Osborn, Tina and her husband, Robby Steele, Ann and her husband, Ed Laney; two grandsons Brent Osborn and Kevin Osborn (Sarah); one granddaughter Bianca Steele; four great-grandsons Payton Osborn (Brittany), Cameron Osborn (Izabel), Gavin Farr and Zander Carver; one great, great grandson Nicolas Osborn.
The Funeral Service will be held Sunday, March 19, 2023 at four o'clock at the Second Baptist Church in Cedartown with Anthony Osborn and Ray Hopkins officiating. The family will receive friends Sunday, March 19, 2023 at Second Baptist Church from two o'clock until the funeral hour. The interment will be held at The Northview Cemetery, with Bill Heaton officiating.
Grandsons and great-grandsons will serve as pallbearers.
The Lester C. Litesey Funeral Home is honored to serve the family of Mrs. Frances Lankford.