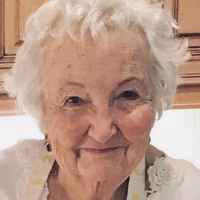 Elizabeth Camp Swafford, age 98 of Birmingham formerly of Cedartown, GA, passed away on Thursday, March 17, 2022.
She was preceded in death by her husband, Guston W. Swafford; brother, Jimmy Camp; and son-in-law, Doug Cason.
She is survived by her daughters, Sherol S. Cason and Marilyn S. Vincent (Dennis); grandchildren, Thad Cason and India Vincent McKinnon (Bill); and great-grandson, Vincent McKinnon.
Elizabeth was born and raised in Cedartown where she was a member of Antioch Baptist Church and First Baptist Cedartown Church.
She lived the last 11 years in Birmingham at Somerby.
There will be a graveside service on Tuesday, March 22, 2022 at Greenwood Cemetery in Cedartown beginning at 1:30 PM.
In lieu of flowers, donations may be made to St. Martin's in the Pines Compassus Hospice Unit.
Proverbs 31:28 "Her children rise up and call her blessed"
The Litesey Funeral Home is honored to serve the family of Mrs. Elizabeth Camp Swafford.