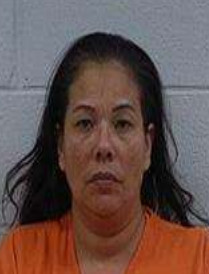 Police got lucky for the second time this month and jailed two people on multiple drug charges when investigators went to the house for a completely different reason and called in the Polk County Drug Task Force to search when they saw evidence of potential drug dealing going on inside.
Drug Task Force Commander Jonathan Fuller reported this morning that Michael Brent Sutton, 46, and Misty Lee Womack, 43, were both jailed on Wednesday afternoon following the search by DTF agents who got warrants after receiving information and found a "trafficking amount of methamphetamine" along with other paraphernalia.
Fuller reported that initially a Detective and an official from another agency were at the house on a separate issue when they smelled marijuana in the air inside the house and called for help.
Agents from the DTF also found other narcotics and marijuana during the search as well, along with items commonly used in trafficking and using drugs.
Womack and Sutton were both charged with felonies and misdemeanors for possession of methamphetamine, possession of methamphetamine with intent, trafficking in cocaine, illegal drugs, marijuana or methamphetamine, felony possession of marijuana, three counts of sale manufacture, deliver or possess dangerous drugs, possession of tools for the commission of a crime and manufacture/possess etc. controlled or counterfeit substance, or marijuana, near a park or housing project.
Womack, her address listed as 4014 3rd Ave., Rockmart, also faces an additional possession of a controlled substance charge for marijuana. She was being held without bond set as of this posting.
Sutton, with his address listed as 26 Milam Bridge Road, Cartersville, remained in jail without bond set as well.