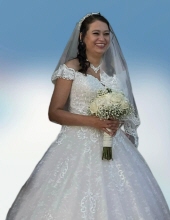 Mrs. Bianey Salmeron-Diaz passed away Saturday, November 26, 2022.
Mrs. Salmeron-Diaz was born in Mexico, on October 9, 1984, the daughter of Gudelio Salmeron and Carmela Salmeron.
Bianey was a strong loving woman with a heart of gold. She was known for always putting others before herself.
Her family will miss her greatly but rejoices in knowing they will one day see her again.
In addition to her parents, Bianey is survived by her husband, Leder Santana-Pineda; a son, Larry Santana-Salmeron; daughters, Lesly Santana-Salmeron, Heily Santana-Salmeron, Ariany Santana-Salmeron, and Mairary Santana-Salmeron; and brothers, Heriberto Salmeron, Eduardo Salmeron, and Everardo Salmeron.
Arrangements are currently incomplete.
The Smith & Miller Funeral Home is honored to serve the family of Mrs. Bianey Salmeron-Diaz.